gdios'gh084y398ygsdroghuidg
df gd fg fdg dgohidfiog d8fyhbv dfubh

!!!!!!!!!!!!!
5480tugodfnvm,nxjkruighs


Why is it that the thing I'm least interested in planning about my wedding is my wedding dress?? I feel like I could very easily find something in a discount shop and be content with it. I guess I just don't imagine a "perfect" dress... Hmm.


I'm sort of in a bummy mood tonight cause Jason is off visiting his brother overnight and I'm stuck here at home with Jade and homework. (Very much needed homework). Yet I am writing on this thing.

I need to watch the movie "And the Band Played On" and relate and discuss 5 sociological terms from my textbook to it. Hopefully I'll at least enjoy the movie..

I also have to do some boring business homework (E-commerce)...can't wait to change my major

In Jade news...she's growing up super fast. You hear that all the time, buts its the truest fact of life there is. Everytime I see her (I hate that I even have to say that about my daughter) she is saying and doing so many different things. One of her newest things is her climbing in my lap when she is tired, adamantly positioning herself to lay across my lap, and saying "I wanna rock".(While playing with my hair, of course) It's adorable.

This is crazy but she just recently started calling me mommy. Up to this point she has always called me Daddy. The other night she had gotten out of bed, and Jason started to bring her back to her room and in her crying fit she blurted out "I want Mommmaaaaa!!" and I almost lost it. That was really the first time she had ever said it without us telling her. Needless to say, I couldn't resist, I put her back to bed myself :)

I guess the only other thing I can think of is her absolute LOVE of saying Thank you and Your Welcome. She says it with such enthusiasm that it makes my heart smile everytime. I love her so much and I truly miss her every minute she's gone.


Well...I thought I had a lot to say but I really need to work on my study habits and not procastinate so much. Majorest flaw evar.
Barney and Friends. I use to watch this when I was younger. Now Jade is watching it, and its strange. Aw I remember that cute red-headed boy. Actually I remember most of them...
Not much progress on the wedding planning front, but I found some dresses that I really like for bridesmaids.
It's from modcloth.com
I found this one and loved it!
So while I waited to hear back from my bridesmaids about if they liked it or not, I kept searching and found this one too:
My maid of honor's grandmother use to sew everything and wants to get back into it, so we're thinking of letting her try to make the dresses. (They are out of stock on the website, plus it will probably be cheaper...even though they are only $50 each) My MOH says she will work with her grandmother on making the first dress for her, and see how it works out and if she can do it before she starts working on the other girls' dresses.
So, here are my options, I'm thinking either A: I'll do both dresses, 2 girls in one and 2 girls in the other.
or B: I'll go with the first one entirely, and we'll modify it so its a little more modest. Maybe make the dress a little longer and with thicker straps/sleeves. Then we'll do 2 girls in the original one and 2 girls in the modified one.
I can't remember what my last post said about colors, but I've changed it yet again, to a blue and orange/burnt orange. We're going to play around with colors to match these dresses since I havent actually figured out what I want for sure.
So we still haven't figured out WHERE to get married. Theres this huge, beautiful orchard down the road from here, big pecan trees. I kinda wanted to try to do it there, but I recently found out that October is pecan season, so thats a no go, huh?
I can't think of anything, theres absolutely nothing pretty out here, just fields.
I'm thinking I should start entertaining the idea of doing it inside in case we truly can't find anything. So from now on, I'll be looking and indoor and outdoor places. (Plus I need a back up anyway, in case it rains, right?)
I think thats all for now!
I don't ever get on here anymore.


Although we did pick a date: October 16, 2010 :)

School has been pushing me pretty hard, only a couple more weeks left before its done with, so finals and essays and projects are being had. Not so fun.


I'm struggling a good bit with managing my life, surprise surprise. I guess physically its fine, but I feel guilty about so many things or an overwhelming obligation to do things all the time. Like I never have time to barely talk to my friends and family, much less see them. It's feeling guilty about not being a good friend but also it sucks if I concentrate too hard on the fact that my "fun" of being a young adult is pretty much over, and never really existed. I mean, yeah I can have tons of fun as a family but, trying to get days in to have a get-together, party or something? Good luck with that. I'm not sure why I never really had these feelings before, when it was just Jade. I guess Jason showed me what it was like to have fun, so now I want it more often. (With Eric it was boring 24/7 for 5 years so I guess I didnt know what I was missing)

But life is so good! I'm incredibly happy with the direction my life is going, I see so much potential of ultimate fulfillment. It's pretty damn close as it is.



Got two girls beckoning for me so...until next time :)
Things have been pretty slow in the wedding idea department.


Dad has not been able to speak, at first it was mumbling gibberish, then it progressed to making words that didn't fit in the sentence. It's now Tuesday and he's doing much better, and we are able to communicate quite clearly with him. Every now and then he struggles with some words but its been a huge improvement.

The right side of his body was the most affected and he hasn't yet regained use of his right hand. Otherwise, he has begun walking down the halls and eating on his own. He's been utilizing everything as much as possible.

Yesterday the physical, speech, and occupational therapists came to see him and tested his abilities. He is still not able to do some major things.

From what I understand, he will be leaving the hospital in Atlanta today and be moved to a rehab facility near Newnan.

Both my mom and dad are having a hard time emotionally. My mom is pretty upset that he can't come home and that she will only be able to visit him occasionally in rehab, instead of being by his side the way she has been in the hospital. Also, in the beginning, maybe not so much anymore, she had been blaming herself for things the night he had the stroke. He had been making a lot of noise downstairs and she had been half asleep and didn't check up on him. He ended up making it all the way up the stairs and into the bedroom on his own. We're trying to keep her level-headed about it but I can understand feeling bad. It's a sad thought that he had to struggle so much.

My dad has been kind of emotional since Day 1 but I think that's mostly a result of the stroke. He tears up when people come to visit him. He gets quite frustrated when he can't do things. Mom says that he told her that he is under the impression that he will be like this forever. How depressing it must be to be in that state of mind, to supposedly know you'll be handicapped. He will get better though, but its hard for him to believe at this point.

As far as medical things go, my dad has been having high blood pressure which is apparently typical after a stroke.
He has also had high blood sugar, so he's been receiving shots of insulin. I think everyone is under the impression that he probably had diabetes and didn't know it. So from now on he will be on a diabetic diet.
Everything else seems to be looking good and I think the doctors are confident that theres nothing still lurking in his body that will cause him to have another stroke (anytime soon)

I'm just so glad this has not been worse than it was. I'm glad my dad made it up the stairs that night. I'm glad he's able to use his legs. I'm glad that he recognizes everyone.

I just hope everything will go smoothly from this point on. I know it will be trying for my parents within the next...who knows...dealing with rehab, hospital bills, getting back to work and hopefully some major life changes.
So, my dad had a stroke Wednesday night. It was after midnight and both my mom and brother were already in bed, so its a miracle that things aren't worse than they are now.
I'm leaning towards Peach and a Seafoam Green with maybe some Lavender in there?
I can't quite find any pictures of bouquets in those colors. At least I know it will be somewhat unique? Here are some general ideas:
This green is a little too dark though:
Been playing with color schemes and looking at bridal bouquets for inspiration.
(
Beautiful photos
Collapse
)
I've been looking at vacation packages and stuff and it's pretty darn pricey, not surprisingly. There have been a few things I found that seem too good to be true, price-wise. I want to be able to relax and enjoy the sights, but I don't really want to sit in a hotel room all week. They have self-drive packages, basically they help you route out places to go and you stay in B&B's and drive a rental car around the island. It seems really nice to do something like that, but I'm afraid it would be too hectic. Like too jam packaged with driving and not enough time to really take it all in.
They have honeymoon packages that are super pricey but they seem sOO awesome. In one you can stay in a castle and have it all to yourself! (yeah right, for $2000 per person, I think I'll pass...)
There are also options of renting out a cottage for a week or so, and those are actually pretty cheap, but I'd want to travel a little more I think..I'm not sure. Maybe it would be nice to find a cottage with a great view and just enjoy our stay, the sights, and take hikes and little drives to the nearest town. Who needs castles...? =/
Lots of researching to do, I want to do this!
So Jason and I super super super wanna go to Ireland! How awesome would that be??
I found this one wedding dress that is amazing, but I doubt very seriously I'll find it in a boutique anywhere. (And I'm not about to order my wedding dress online!)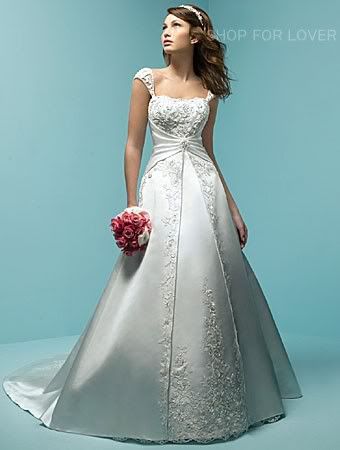 It makes me smile all over my face.
As for bridesmaid dresses, I saved a couple random pictures. Probably way off, but they were cute!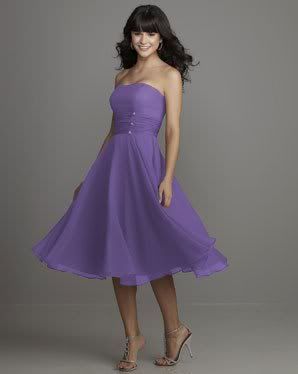 I would probably want to put straps on this one

This one is way too slinky but I love that layered style. They like to put that on wedding dresses too. I'm fond of it!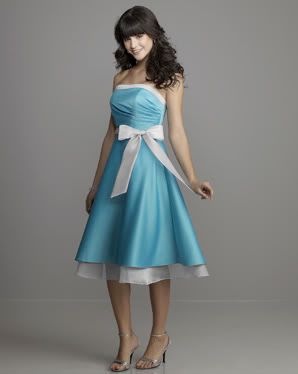 Alice in Wonderland anyone?
Once again, just browsing the internet for random things. I'm starting to get a feel of what kind of style I want in a dress. (Though I'm completely lost on the bridesmaid dresses)
s here.
Just checking out random venues in Georgia, I found 2 that look nice, but probably way out of price range. (speaking of which, I dont even know our price range)
One is in Macon and the other is in Peachtree City (10 minutes from my parents)
I like the one in Macon, and Jason seems to as well. Its fun to dream: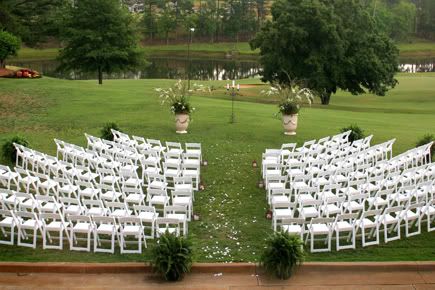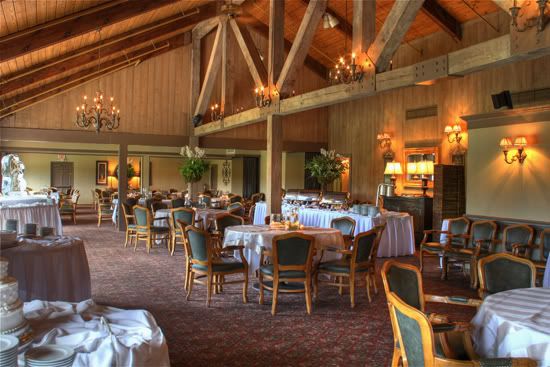 The one in Peachtree City is nice as well, beautiful ceremony site, but I'm still preferring the Macon one overall: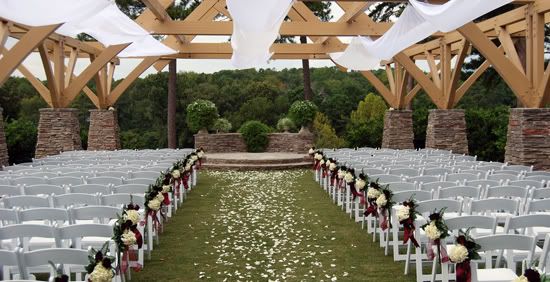 Okay so I guess just for fun I'll put random wedding thoughts/arrangements/plans/possibilitie


But I suppose today I'd like to document that YESTERDAY morning, Jason proposed to me in bed, with a ring and everything :)

I'm so happy to be starting this new chapter in my life.

I'm so excited to finally BE excited about having a wedding and being a bride for a day. I never felt the desire for such a t hing, and I know it had a lot to do with the relationship I was in. But man oh man, is this going to be fun!

Major kudos to my fiance Jason; who has shown and given me all the things I never thought I could have

<3
Don't really have much to say these days, too busy! School and kids seem to sap any extra brainpower I ever muster.